ENROLLMENT
Introduction
Education Institution of Pabelan Islamic Boarding School located in Pabelan village's, Mungkid, Magelang Ctiy, Jawa Tengah. Complex of Islamic Boarding School landmass of 5,5 Ha at the middle resident. Geographically location of Islamic Boarding School more or less 1 Km in South street Yogyakarta-Semarang, and 0,5 Km in East street Muntilan-Borobudur. Distance Islamic Boarding School from Yogyakarta is 35 Km to the North, from Muntilan to the West, from Borobudur 9 Km to the East. and from Magelang 12 Km to the South.
Education Institution of Pabelan Islamic Boarding School built by KH. Hamam Dja'far at August 28, 1965. This Institution that been under Wakaf Foundation of Pabelan Islamic Boarding School take care of education for male student although female student as long as 6 years for Primary School ( SD ) graduated by applying curricullum Kulliyatul Mu'allimin Al-Islamiyah ( KMI ), which at this equivalent to Upper Secondary School according to SK Mendiknas. Automatically the students so will follow the Madrasah Tsanawiyah ( MTs ) and Madrasah Aliyah ( MA ). Then for student has a mind to deepen Islamic Knowledge and preparations for Lower Secondary School ( SLTP ) outside Islamic Boarding School who will enter to (1) First Class in Madrasah Aliyah ( MA ) or Fourth Class in Kulliyatul Mu'allimin Al-islamiyah ( KMI ) so taked care Takhasus Program for 1 year. Aim of Education is bring the student into being autonomous and develop according with each him self.
At year education 2004/2005 Madrasah Aliyah ( MA ) Pabelan Islamic Boarding School form one of 30 MA in Indonesia that receive Science and Technology Equity Program 2 ( STEP-2 ) so built here the Physics, Chemistry, Biology, Computer, Language, and Lifeskill Laboratories.
EDUCATION PROGRAM
The Basic Program
1. KMI Class ( 6 years )

a. Madrasah Tsanawiyah
b. Madrasah Aliyah
Curricullum what teached form integration from KMI Curricullum Islamic Boarding School with MA and MTs Curricullum.


2. Takhasus Class

As Program preparations to follow Fourth Class in KMI ( 1 Aliyah ) what teached for Lower Secondary School Graduated.
Choise Program
1. Study Book

Carried out at evening or night, the student can choose one or more books.


2. Skill

Carried out like Study Book ( time and carrying out of it ).
Extra Program
1. Obligatory

Speech in three languages ( Arabic, England, Indonesian )
Boy Scout
Micro-Teaching ( Sixth Class )
Womanhood


2. Choise

Arts ( Music, Drawing, Theater, Kaligrafi, Electronic, Marching Band )
Sports ( Football, Vollyball, Takraw, Basketball, Badminton, Table Tennis, Karateka, Pencak Silat )
Facilities
* Dormitory
* Library
* Language Laboratory
* Computer Laboratory
* Physical Laboratory
* Chemistry Laboratory
* Biology Laboratory

* Lifeskill
* Sport Field
* Cooperation
* Canteen
* General Kitchen
* Municipal Water Corporation
* Students and Social Medical Clinic ( BKSM )
Vision and Mision
Vision defined is : "Education Institution Pabelan Islamic School prohibitory all students to be virtuous of mukmin, moslem and muhsin, healthly embodied, well-informed and free-minded". Then to the vision of Pabelan Islamic School defined some misions, that is : (i) Engraft and upgrade the students discipline to implement a rule Islamic religion in the daily life's. (ii) Engraft sincere soul, homeliness, ukhuwah diniyah, be autonomous dan freedom in the daily life's. (iii) Holding a formal education with Islamic School curriculum which adaptable with National education curriculum. (iv) Educate and bring student to be able know him self and way, so have a motivation and skill to develop the self accord with him life behavior. (v) Educate and draw up the student to be autonomous man and serve to society, country, and nation.
TERMS of ENROLLMENT
Terms of General
Degree in Elementary School ( SD ) or Madrasah Ibtida'iyah ( MI ) and on an equal.
Degree in Lower Secondary School ( SLTP ) or Madrasah Tsanawiyah ( MTs ) and on an equal, for Takhasus Class.
Following Examination to Enter KMI Pabelan Islamic School.
Terms of Administration
Photostat of Diploma for School ( STTB ) with legalization from him school as many 4 ( four ) sheets.
Photo fit 3 x 4 = 4 sheets, 4 x 6 = 2 sheets.
Pay off contributions that set at enrollment time's.
Turn over Bill of Good Behavior ( SKKB ) from plice force or from him school.
Pay the expense of Examination to Enter KMI as many Rp. 50.000,-
Contribution of registration for old student as many Rp.200.000,-
Time and Place of Enrollment
Begining at May 2 - July 18, 2006

Enrollment of New Student Office
Complex of Pabelan Islamic School
The Items Testing
The Oral Examination

The Reading Al-Qur'an
Tajwied
Ibadah daily



The Write Examination

Religion Knowledge
Mathematics
Indonesian Language
General Knowledge



Examination for Takhasus Class, added :

Arabic Language ( oral and write )
English Language ( oral and write )
Defrayal
The First Contribution

The Details as follows :
The Base Money
The Building Money



The Monthly Contribution

The Place, Food and Clothing Contribution
Dormitory Contribution
Electric-Water Contribution
Care Contribution
Study Evaluation Contribution
Eat Contribution

Rp.

Rp.
Rp.

Rp.
Rp.
Rp.
Rp.
Rp.
Rp.
Rp.

1.750.000,-

750.000,-
1.000.000,-

350.000,-
60.000,-
40.000,-
40.000,-
20.000,-
10.000,-
180.000,-
LOCATION LAY OUT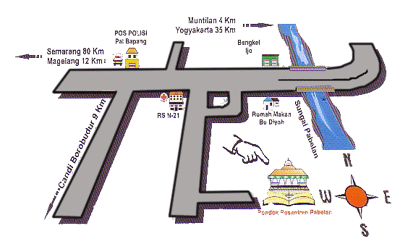 Description :
With train from Jakarta/Surabaya go down in Yogyakarta station then go by Yogya-Semarang bus go down in Muntilan Terminal, then go by carrier Muntilan-Magelang way. Go down in Batikan/Islamic School, go by dogear/ojek around 1 Km.
With Bus from Jakarta/Yogyakarta go down in Muntilan terminal. Go by carrier Magelang way. Go down in Batikan/Islamic School, go by dogear/ojek around 1 Km.

Inscription :
For candidate of student who back off before Khutbatul Iftitah Program, will returned the base money 50 %, school money, and eat money thet yet used.
Every candidate of student must following the health test that held by Islamic School.
Every student must stay in dormitory.
The Things that yet explicit can asked in the enrollment place.